ESPAÑOL:

Estos son los dibujos sobre Pon&Zi que hice allá por el 2005 con el permiso de Jeff Thomas .
Normalmente no dibujo fanart, salvo por algún motivo específico, pero desde el primer momento en que conocí a Pon quise darle un enorme abrazo. Pensando en ello di con esta idea y con el personaje rosa que podría hacerlo por mí.
Jeff me dijo que le había gustado bastante el resultado, lo que me alegró mucho pues pienso que, en el fondo, él es el verdadero Pon.

Esto fue originalmente subido en mi galería de DeviantArt (sin marca de agua) y es uno de mis trabajos más robados; podrán encontrarlos en múltiples galerías de Photobucket, en collages de piezas de Pon y Zi, sin mencionar su masiva aparición en videos de youtube…

En anticipación a una pregunta que suelo recibir sobre estos trabajos he de decir que, dado que Pon no es mi personaje, me es imposible ofrecerles impresiones de estas piezas, lo siento. Si están interesados en productos sobre estos personajes les recomiendo que visiten la web oficial.


ENGLISH:

These are the fanart drawings on Pon&Zi
that I did back in the '05 with Jeff Thomas' knowledge and contentment.
I hardly ever draw fanart, just for very specific purposes, but as soon as I meet Pon I felt that I wanted to give him a very big hug so I came up with this idea and a pink character of my own for doing it.
Jeff told me that he liked the whole thing quite a lot, which brightened my day because I think that he is Pon deep inside.

These were originally posted at my DeviantArt gallery (without watermakrs) and it's one of my most stolen artworks; you can find it in several Photobucket galleries, Pon&Zi collages, not to mention the massive amount of videos at youtube…

In advance of a question I get quite often I have to say that, since I don't own Pon I can't offer you any prints on this work, sorry. If you are interested on products of them look at their main site.


Estos dibujos estan realizados cn medios mixtos. Los dibujé con un rotulador negro grueso e hice el coloreado principal con rotuladores de colores; luego terminé de colorearlo con Adobe PhotoDeluxe Home Edition 3.0 (lo sé, lo sé, pero era el único programa administrador de gráficos que tenía en mi ordenador por aquel entonces). Lo he retocado un poquito con Photshop para subirlo aquí.

Estas viñetas individuales fueron hechas como parte de una tira que terminé convirtiendo en una versión distinta del coloreado añadiendo algunas capas más y aplicando filtros.



It's a mixed media work. I drew it with a thick black marker and did the main coloring with markers; then I finished it all with Adobe PhotoDeluxe Home Edition 3.0 (I know, I know, but it was the only graphics management program that I had at my pc back then). I fixed it a little bit with my new Photoshop for posting it here.

This panels were done as a part of a stripe, which I turned into a different version of the coloring applying several filters and including some new layers.

The Comfort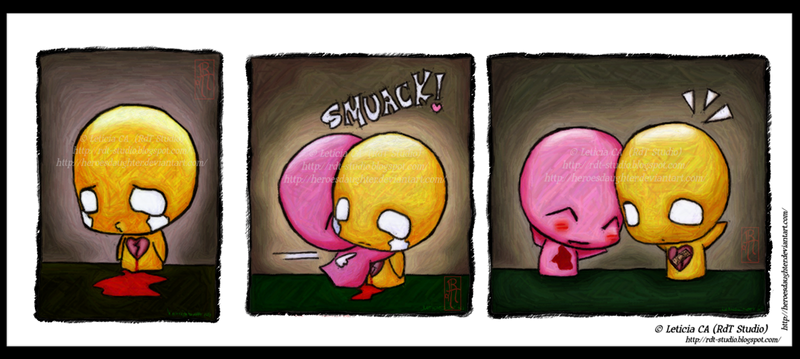 Art © Mine
Pon&Zi, and everything about them © Jeff Thomas
Pink guy © Mine
Artwork realized and posted with Jeff Thomas' permission.
.