.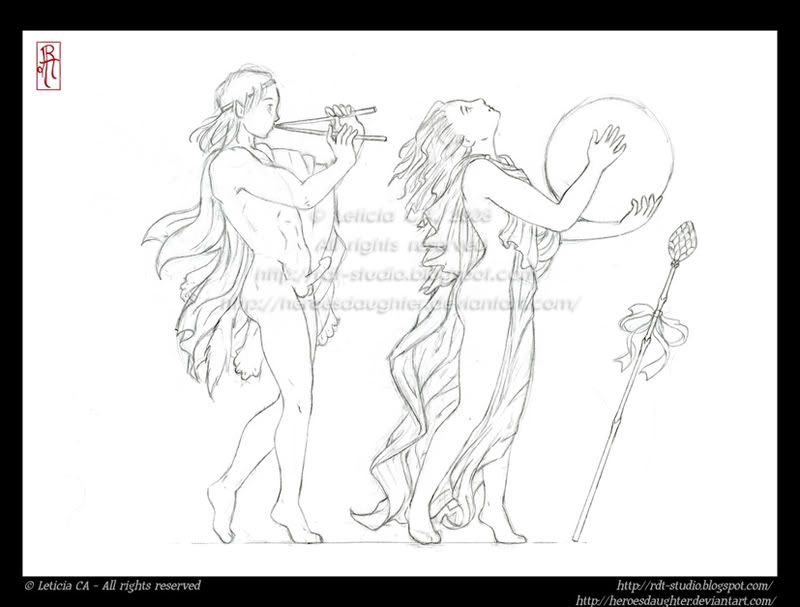 ESPAÑOL:

Llevo tiempo estudiando los relatos que componen el mito dionisiaco (entre otros). En consecuencia, tengo acumulados ya bastantes dibujos orientados a estudiar los símbolos y atributos asociados.

El presente está vagamente inspirado en el relieve de un enorme jarrón de la Galleria dei Candelabri del Museo Vaticano. (Esta algo vuelto hacia la pared por lo que sólo se lo ve bien cuando dejas atrás la sala de Dionisos para entrar en la de Diana -queda a la derecha-). Digo vagamente porque este boceto pretende recoger elementos importantes de un cortejo báquico (la postura de ambos personajes, el itifalismo del sátiro y sus facciones -destacando la nariz chata-, el tirso, las pieles de animales, etc.), y muchos de estos fueron desatendidos o perdieron rigor o importancia en el culto romano a Dionisio.

Por otra parte, he de reconocer que se me hace delicioso dibujar figuras clásicas femeninas. De hecho, me da bastante pena tener que vestirlas. Los cuerpos son extrovertidos y suaves, acogedores; no duros, precarios y más o menos andróginos, como gusta en buena medida el arte contemporáneo. Se me hacen mucho más auténticos y no menos bonitos.


ENGLISH:

I've been studying the mythological complex related to Dionysus for a while now. It's quite an interesting thing and has resulted in the accumulation of many drawings on which I tried to study the attributes and symbols related to Dionysus.

The sketch here is part of a study on the Dionysian Corteges.

Actually this pic is loosely inspired on Roman piece, the relief of an enormous vase, which can be found at the Galleria dei Candelabri at the Vatican Museum. (This particular part is half turned to the wall, so you only can see it when you are leaving the Bacchus' room to get into Diana's -at the right-). As I said, it's only loosely inspired because I've tried to portray here some important elements of this corteges (such as the pose, the itiphallism of the satyr-man, the factions, the animal fur, the staff, etc.), and some of them were neglected by Romans on their perspective of the cults.

In any case, it's so rewarding to draw feminine classical shapes! It makes me a little bit sad having to dress them up. The bodies are so soft and extroverted, so different from the hard, impenetrable and more or less androgynous style that the contemporary art likes. I think they are more authentical that way and no less beautiful at all.

.