ESPAÑOL:

Boceto rápido a lápiz resaltado por ordenador que hice de dos grifos muy distintos que encontré guardando un escudo real esculpido en un relieve de piedra.

Me encantan los grifos, son los guardianes de puertas misteriosas y tesoros valiosos.


ENGLISH:

This is a quick pencil sketch enhanced with Photoshop that I did on two very different gryphons that I found guarding a royal coat of arms carved on a stone relief.

I really like gryphons, the always guard the most interesting doors.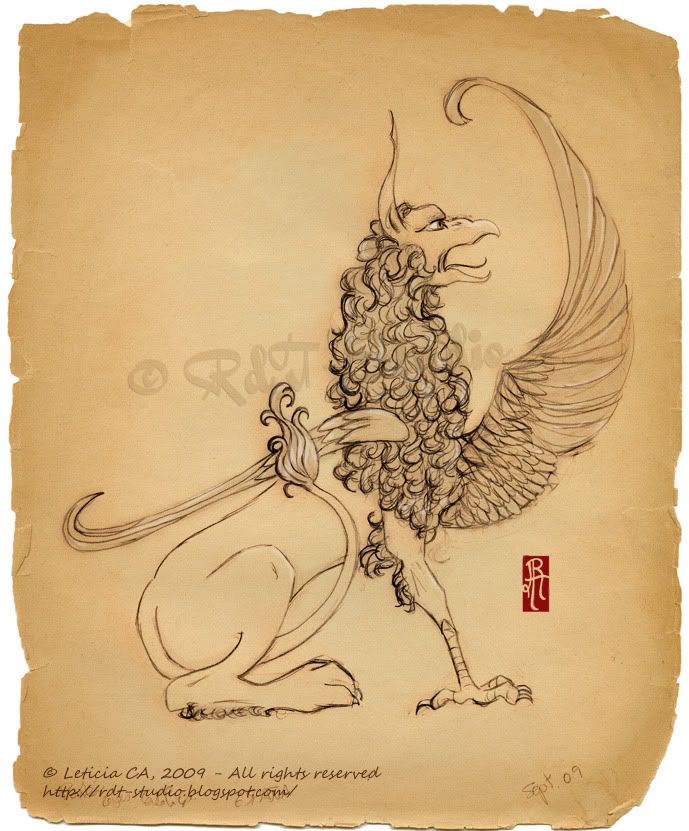 Estaba comprobando la presencia del águila de San Juan en la heráldica de principios del Renacimiento y esos grifos llamaron mi atención por lo bonito de su diseño y, sobre todo, por lo distintos que eran el uno del otro.
Éste es el de la derecha y es el que está más elaborado.
Está diseñado al modo convencional, mezclando partes de león y águila según el patrón más extendido; sin embargo, y a pesar de tener un volumen bastante sólido, es muy estilizado (el original es mucho más alargado que el de mi dibujo). Me gustó particularmente la segmentación de las alas y la suavidad con que se rizan las puntas y la melena.

¡Segundo grifo en la próxima actualización!


I was checking the presence of Saint John's eagle in the early Renaissance heraldic period and two gryphons got my eye as they were beautifully done but so different from each other.
This is the one standing at the right of the coat.
It is the more elaborated one from the two. Designed as a typical gryphon, as it mixes lion and eagle characteristic in the most generalised way, it is surprisingly s stylized (the original one is even longer than how I drew it). I especially liked the wing segmentation and the soft way the extremes of them and the mane curve.

Second gryphon coming soon!