I was just doodling while reading about the metanarrative implied on the epistemological obstacles of modern science and their connection with the poetical structures in human mind and it came out so cute that I just had to colour it. And since it's been ages since I haven't done a proper PC colouring I spent more time than I should on the details.
And I love these guys, so it was a lovely job.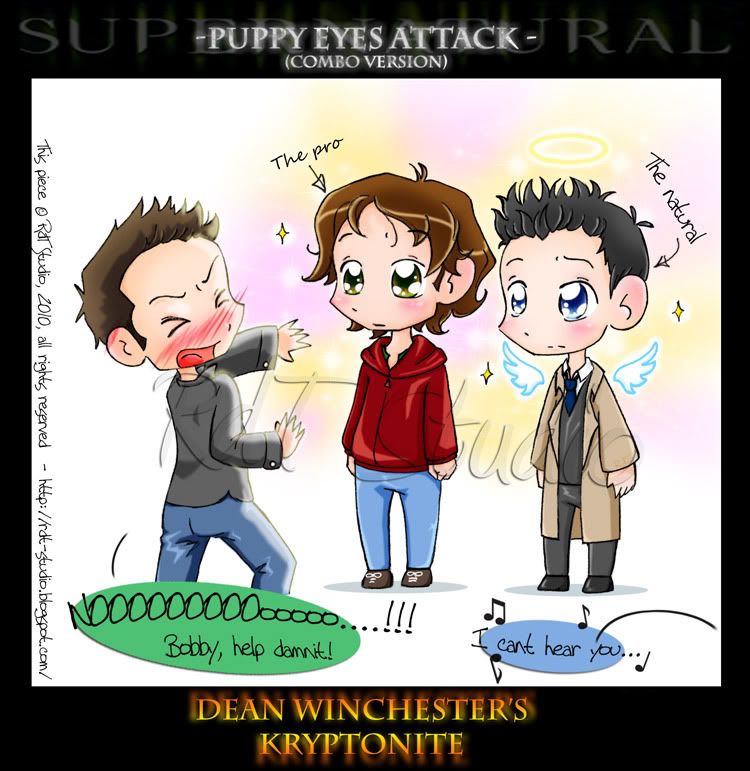 (because we all know is true)

((and I'd love to see this combo taking place))
And I couldn't help but to make single shots of it:
CASTIEL
(while drawing this I realized that Cas' name and mine are a letter away from being the same in different order. I know is silly but I feel somehow proud…)
| | |
| --- | --- |
| | |
I am thinking of making a keychain out of this one (so tell me I you are interested).
SAM WINCHESTER
| | |
| --- | --- |
| | |
I gave him the new hairstyle and the old hoodie (how I miss his cute self).
I am not entirely happy with this one. It lacks some more… "badassery" here; but I take it as a practice to the ones to come (because now I need to make a chibi Dean too, so I think I might make a dynamic pose set with the three of them so I can print them as stickers or keychains). It felt weird to give him a knive after the special mojo arc but, hey!, sharp things are still his signature weapon on posters.
The back shot was originally going to say "True Destiny", but I decided to save that one for the revamp.
---
Art © me
Supernatural © their respective owners
.