(so not the tale of the same title by Pedro Antonio de Alarcón)
I have had this sketch around for a while now, so I decided to play a bit with it in Photoshop. In spite of all evidence I'm not really fond of digital art (I can't help but to think that you can't put on the same league media that includes an "undo" function with media that not) but I cannot deny it is useful, so it is good to experiment on it from time to time.
It's also a practice for semi-realistic baby expressions, which are hard to draw.
This drawing goes together with another one traditionally done that needs to be finished.
This drawing is on a tale from the East of Spain called
El amigo de la muerte
(literally: "The Death's friend").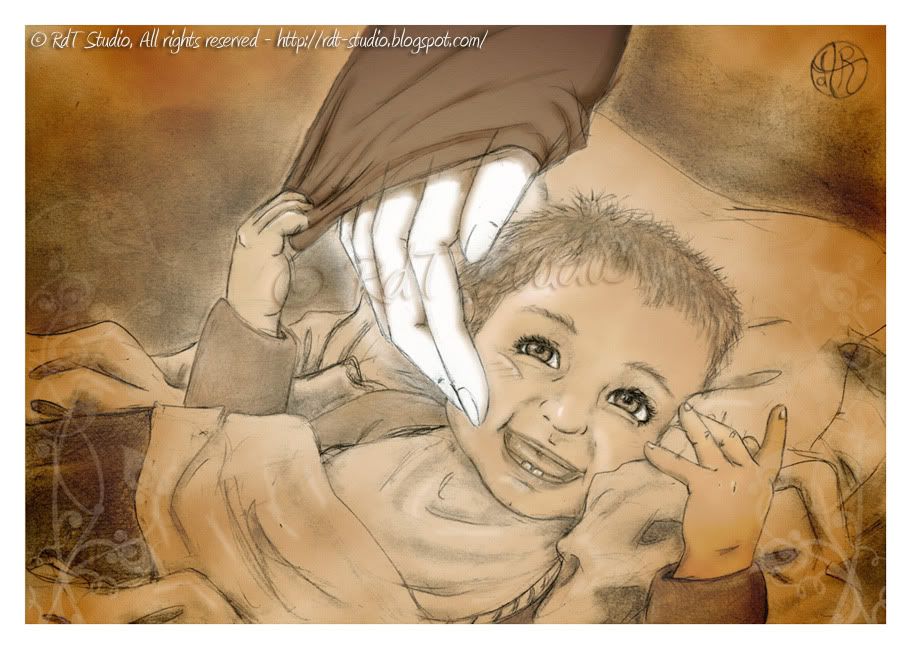 … and she caressed him with her long dry fingers that cracked whenever she moved them. But the child never cried as he was used to it, and he smiled and laughed, and the Death was dazzled.
The tale says that there was a man of perfect justice, and it happened that the man was to be a father.
He was very worried on how to make his child as honest and fair as he was. Asking around he found a very old and wise man who told him that children grew after their godparents, so the man decided to leave his house in order to find the fairest godparent possible for his child.

After some time travelling he reached a forest. The Devil, who had heard of his search, came to the