I'm so busy with my studies and job right now that I think I neglected this blog too much. I guess it is like that all the time for me, but I really want to make this a beautiful sharing spot so things will keep coming on its own pace. People say that blogs should be updated almost daily, but I don't agree, I don't need the page views and, as a viewer, that would only keep me away from a carefull following of the artist's work.
Anyway, in spite of the hard work I am currently working on a few very time consuming illustration projects and I hope being able to share with you some of the early results on the following months. Also, I'll be opening a little store on this blog with prints and stickers of my work as soon as I can guarantee a proper attention to anyone interested in buying.
The following painting is a texture sketch for
one illustration for a story book
of my own I'm working on in my bits of free time, it is called
Bajo el techo verde
(literally: under the green roof).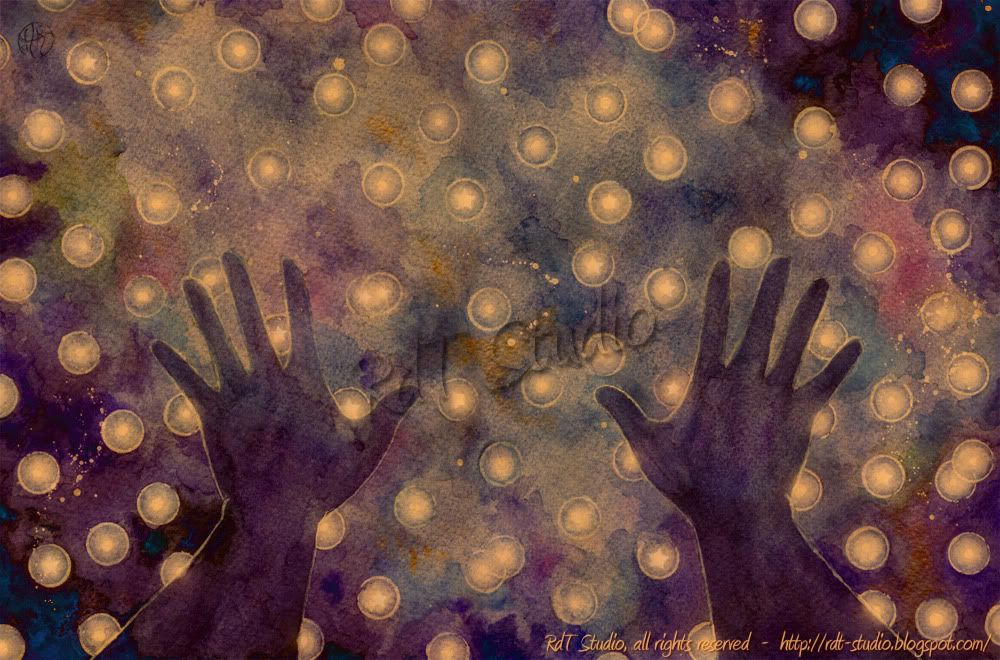 Vahlia reaches for the starry sky

I am not telling you what the story is about, but this is the moment when the main character, a girl named Vahlia,
sees the sky for the first time
and extends her hands up to it like if she could touch the night light. So I want this scene to hold a lot of my feelings about the sky (so, among other things, I
has
to be blue and sparkly).
The picture for the book is nothing like this, but I had to toy with some different effects to find what I really wanted to do so the painting would look the way I needed. This came out in the while and I really like the way it looks.
Hope you like it too.
Until next time,
ღ Leticia